188/190 Watling Street East, Towcester, Northants. NN12 6DB.
Telephone : 01327 359266 Fax : 01327 359717 E-Mail : mail@johnwhitefunerals.co.uk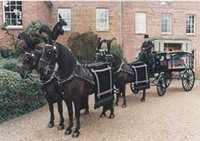 Terms & Conditions
The funeral account is due for payment in full within 30 days of our account unless
otherwise agreed. A 50% deposit may be requested for all funeral types at the time of the arrangement.
John White Funeral Directors do not offer payment plan options or monthly repayment terms.

If you fail to pay us in full on the due date we may charge you interest at a rate of 4%
above bank's base rate calculated (on a daily basis) from the date of our account until you make
payment in full; compounded on the first day of each month and before and after any judgment
(unless a court orders otherwise).

We will recover the cost of taking legal action to make you pay.

We may recover any unsettled account through the Small Claims Court.